Here is a Review from Our Facebook Page by Ken Po: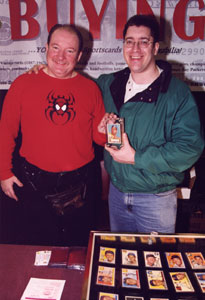 With a schedule that caters to multiple markets (Vancouver, Kelowna, and Penticton), the scope of the Fun Promotions show covers a broader range than most collectibles events, yet is more focused than general flea markets or swap meets. The selection primarily features a host of toys, comics, vintage magazines, Lego, die-cast models, media (DVDs and vinyl records), gaming, and sports memorabilia (including sports entertainment such as wrestling). The Vancouver show at the Scottish Cultural Centre also features an ongoing selection of electronics and computer equipment.
The main promoter, Verne Siebert, is passionate as well as approachable in his organization of these events. This is reflected in the relaxing, light-hearted atmosphere that trickles down to his dealers and staff members. Attendees can expect his shows to be well worth the price of admission.
With a floor capacity of 30 to 45 tables (varies depending on location), the Fun Promotions Pop Culture Collectibles Fair in Vancouver is both enjoyable and easily accessible due to its often recurring schedule. In some ways, it may be considered as a smaller scale counterpart to events such as the Vancouver Comic & Toy Show.